John and Kendra Wright graciously donated an Apple iPad Pro to raise funds for MCCA.  "Our Gang" members are selling tickets until the MCCA Birthday Party Celebration on June 11th. We will have tickets at our next events:
Crazy Bowl March 12th at the Hillsboro Bowling Alley
Good Friday Bake Sales on March 25th in front of the Hillsboro Salvation Army and Hillsboro Dollar General.
Tickets are $5 each or 5 tickets for $20. For tickets or questions, please contact an "Our Gang" member or call Linda Klotz at 532.3036, Brenda Cobetto at 532.3081 or Amy Rupert at 725.0715.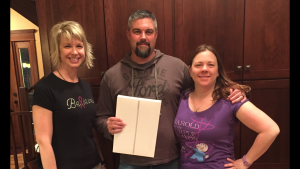 Pictured from l-r:  Amy Rupert ("Our Gang" member), John and Kendra Wright.